Meet the Author 
Virginia Prodan 
Book Signing Event – A memoir – Saving My Assassin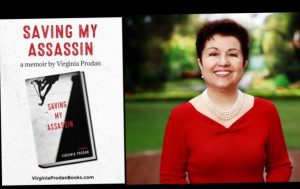 You are invited to a Book Signing Event – A memoir – Saving My Assassin- by Virginia Prodan     https://www.amazon.com/dp/1496411838
Today      August 13, 2016
from
2:00 pm – 4:00 pm
at
Barnes and Noble Preston Royal Shopping Center
5959 Royal Lane Suite 616
Dallas, TX 75230
REVIEWS FOR  Saving My Assassin :
"Saving My Assassin is gripping."
Jerry B. Jenkins
New York Times Bestselling Author
"Saving My Assassin is captivating and you won't be able to put it down. Virginia Prodan has written an incredible book that every American will want to read. It's rare to find a book so well written, and so emotionally powerful, and yet teaching wonderful lessons about freedom and courage and the great moral principles to which we all need to aspire. This is a must read."
Kelly Shackelford, Esq.
President, CEO and Chief Counsel of Liberty Insitute
"Saving My Assassin is a stirring account of valor under an oppressive regime and faith in the face of faithlessness. Prodan's heartbreaking, inspiring life journey from Communist Romania to the birthplace of freedom will move readers of every background, and serves as a call to action for a new generation of Americans whose religious liberty is already under attack by the corrupt and powerful. Through persecution, conversion, exile, and triumph, Virginia Prodan reminds us: there is always hope."
Former Senator Jim DeMint
President and CEO – The Heritage Foundation
"Only someone who has experienced the tyranny and oppression of Communism can fully embrace the liberating joy of Democracy. Virginia Prodan knows such joy and lives it out daily. As an international human rights attorney, Virginia has become a consummate freedom fighter. Hers is the inspiring story of escaping Communist Romania, being granted political asylum by the United States, becoming an American citizen, and now advocating for immigrants who desire to come to the United States legally. I am humbled to be Virginia's friend and honored to be her pastor. Not only is her story riveting, but her dramatic and graphic writing style will capture your mind and heart and will not let you go. Just wait, from the introduction on, you'll be hooked."
Dr. Jeff Warren
Senior Pastor of Park Cities Baptist Church, Dallas, Texas
"Virginia Prodan's new book Saving My Assassin, is a relevant read. The story of a Christian attorney fighting for religious liberty against persecution in Romania is timely for us in America. We are seeing growing prosecution against the Judeo-Christian faith heritage and individual religious freedom here in America. There could be no better time to hear Virginia's story than now. And she enlightens us to a real aspect of the infamous 'War on Women' – that ideological conflagration against Christian women. Virginia's book tells her story – one of being strong and of good courage."
Lieutenant Colonel Allen B. West (US Army, Retired)
President/CEO, National Center for Policy Analysis – Member of 112th US Congress
Cannot wait to see you all today.