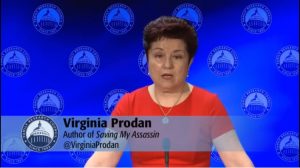 Virginia Prodan
Lecture at Family Research Council
This is in response to many of you who had missed this event and have expressed the desire to watch it.
"Virginia Prodan stood fearlessly against an oppressive communist regime and the lawless leadership of Nicolai Ceausescu.
She chose to obey God rather than man and changed the course of history! Virginia mastered her fear of earthly consequences for the glory of God and now inspires her readers. Beyond inspiration, Saving My Assassin is a call to action: to live above fear—and to witness the miraculous.
I believe this is the message for this generation of Believers, we must rise above the fear of man to see a miraculous move of God."
Tony Perkins
President, Family Research Council, Washington, DC (FRC.org)
Grateful to Tony Perkins and Family Research Council :
"Author and international human rights attorney Virginia Prodan shares her extraordinary story of human courage, search for truth, & defiance in the face of evil.
This event marks the official release of her new book, "Saving My Assassin."
Please watch here:
https://www.dropbox.com/s/be2g4ixmdbuefgx/EF16E109.mp4?dl=0
Looking forward to hear from you all,
Virginia