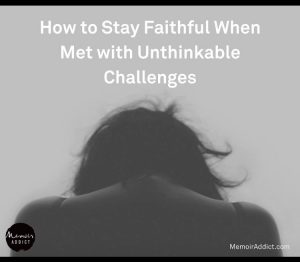 Romanian Refugee Virginia Prodan Advises
How to Stay Faithful When Met with Unthinkable Challenges
By Memoir Addict leave a comment
Earlier this month, we had the pleasure of sitting down with this month's featured author, Virginia Prodan, author of Saving My Assassin – https://www.amazon.com/Saving-My-Assassin-Virginia-Prodan/dp/1496411838?ie=UTF8&*Version*=1&*entries*=0
As a young attorney under Nicolae Ceausescu's brutal communist regime, Virginia had spent her entire life searching for the truth. When she finally found it in the pages of the most forbidden book in all of Romania, Virginia accepted the divine call to defend fellow followers of Christ against unjust persecution in an otherwise ungodly land.
For this act of treason, she was kidnapped, beaten, tortured, placed under house arrest, and came within seconds of being executed under the orders of Ceausescu himself. How Virginia not only managed to elude her enemies time and again, but how she also helped expose the appalling secret that would ultimately lead to the demise of Ceausescu's evil empire is one of the most extraordinary stories ever told.
Kirkus Reviews calls it, "A powerful personal remembrance about the search for God amid communist intolerance."
Virginia shares with us her journey of writing her memoir and the life lessons she's learned along the way.
How would you describe your book in one sentence?
Saving My Assassin is the unforgettable account of one woman's search for truth, her defiance in the face of evil, and a surprise encounter that proves without a shadow of a doubt that nothing is impossible with God.
What was the greatest challenge you faced while writing your memoir?
To faithfully recount, trace and describe Ceausescu's cruel society knowing that many readers never walked into it or experienced it before.
What 3 things would you tell your 20-year old self?
"You will find the Truth. Just enjoy the journey."
"You are as bold as a lion! You just don't know yet."
"Keep your focus – Dream big. Attempt great things!"
Virginia Prodan is an international human rights attorney, an Allied Attorney with the Alliance Defending Freedom, and a sought-after speaker. Exiled from Romania since 1988, Virginia currently resides in Dallas, TX. She has two daughters, Anca and Andreea, and a son, Emanuel.
Visit her on twitter @virginiaprodan, Facebook and on LinkedIn.
She has just written a new book, releasing in June of 2016, titled Saving My Assassin – https://www.amazon.com/Saving-My-Assassin-Virginia-Prodan/dp/1496411838?ie=UTF8&*Version*=1&*entries*=0 – Tyndale House Publishers
https://virginiaprodanbooks.com
Romanian Refugee Virginia Prodan Advises How to Stay Faithful When Met with Unthinkable Challenges